Product Details
Great mid-range incubator - perfect for beginners and experienced alike. For those unfamiliar with this model please read the details about "Unpacking", "Cleaning", and "Lockdown" below as they will help with ensuring you achieve the best hatch rate first time.
This incubator is equipped with cradling trays that can hold up to 56 standard sized eggs such as chicken eggs and duck eggs - it is also able to incubate other eggs such as quail eggs, goose eggs and even reptile eggs. Each egg cradle is equipped with its own LED candle light so you can test the fertility of each of the eggs without needing to open the lid of the incubator.
This incubator is fully automatic and turns the eggs every 2 hours, it has a built in alarm that tells you if the humidity or heat get too high or too low. These features are designed to give you the highest hatch rate possible.
The egg cradles are removable which allow the eggs to be placed on the hatching mat inside the machine once the eggs are ready to hatch. If hatching reptile eggs they may be removed for the entire incubation proc
Please read before unpacking.
Retain Polystyrene Packaging for insulation
When opening, carefully remove incubator - ensuring not to break the polystyrene.
Set up the incubator as instructed and place it inside of the polystyrene – you may need to cut holes for the power cable and access to the display panel.
This will help reduce the likelihood of cold spots inside of the incubator as well as allow ensure the heater is not working overtime and prolong the life of the heating element.
A blanket or several towels may be used effectively if polystyrene is undesirable or damaged.
Pre-Run unit and Calibrate Temperature
Set up the unit and have it run for some time. Once the set temperature has been reached, place a separate calibrated thermometer roughly in the same position as the built-in temperature sensor inside the unit.
If the thermometer and unit do not match, follow the included instructions relating to calibration.
Continue to run the unit with thermometer for several more hours to ensure calibration is correct and the unit is running without issue. You may need to adjust calibration a few times to get it correct.
If possible – keep a calibrated thermometer inside of the unit as a backup temperature gage.
Lockdown tips
There may be gaps around the edge inside the incubator. To prevent chicks from getting stuck in these gaps place material or hand towels around the edges.
To lower the chance of newborn chicks developing leg issues, at lockdown it is best to place a non-slip mat or material on the incubator floor under the eggs.
Cleaning
Ensure the unit is unplugged before cleaning. The flooring inside can be unscrewed and removed for easier cleaning. Do not be afraid to wet the components inside of the base section of the unit.
The hole where wires enter the front panel (as shown in image below) can also be flushed with water – this hole does not lead directly to the important components and has been designed to allow water to enter in and drain through the base – just ensure the base is kept upright to allow any water to drain through the bottom (if placed upside down or leant forward water may affect the important components).
Allow to dry thoroughly before plugging back in.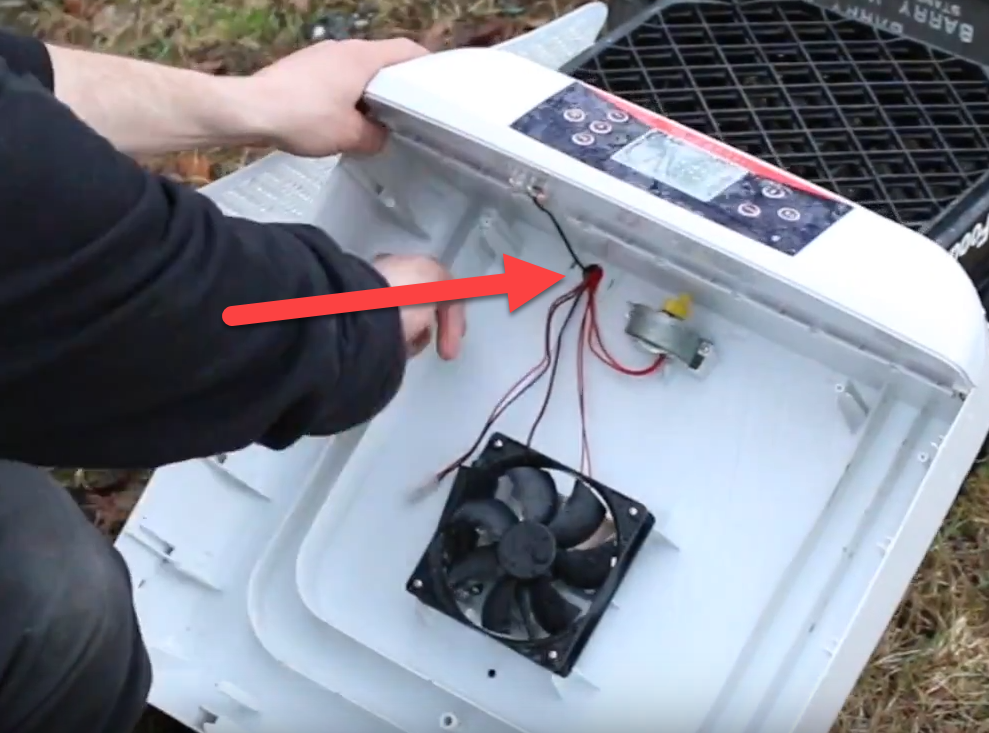 Check under the base every few cleans. Ensuring the unit is dry - flip the base over, directly below the hole pictured above is a small cover that can be removed using a flathead screwdriver. Remove the cover and brush out any debris. Do not use water as it may enter the front panel from this area.
Product Features
Suitable for family, laboratory, farm, for a variety of incubation.
All-digital intelligent control system, precise control of temperature.
Accommodates up to 56 eggs, easy for observation.
If the inside temperature or humidity drop/increase, it will automatically activate the alarm function.
Can turn eggs automatically every 2 hours.
One water bottle for adding water accurately and conveniently.
LED display shows temperature, humidity, hatching day and egg turning countdown time.
Specifications
Material: PVC Plastic
Plug Type: Australian
Voltage: AC220-240v
Frequency: 50Hz/60Hz
Power: 80W
Temperature: 20-40℃
Adjustable Egg Capacity: 56 Eggs
Range of Application: Hatching Chicken, Ducks, Poultry, Pigeons, Quail, Parrot, Birds, Turtle Eggs
Item Weight: 5kg / 112.43lb
Package Size: 54 * 50.5 * 25cm / 21.26 * 19.68 * 9.84
Package Weight: 5.5kg / 12.12lb
Package List:
1 * Egg Incubator
1 * Power Line
1 * Water Bottle
1 * User Manual
Product ID: Incubator_56
| | |
| --- | --- |
| SKU | Incubator_56 |
| Barcode # | Incubator_56 |
| Brand | HHD |
| Shipping Weight | 4.5000kg Test |
| Shipping Width | 0.540m |
| Shipping Height | 0.500m |
| Shipping Length | 0.240m |
| Shipping Cubic | 0.064800000m3 |
| Unit Of Measure | ea |
Product Reviews
Be The First To Review This Product!
Help other AussiePup users shop smarter by writing reviews for products you have purchased.
---
More From This Category